This kind of dive is often erroneously snubbed! That's due to several reasons: beginners generally prefer to see only giant things "easy" to identify, many species have the same shape; or rather because some divers prefer to dive into crystal clear waters. That's why research-dives are not so popular.
Visibility is often low and bottoms are mainly flat.
However, here in Nosy Be, you can discover very interesting things.
As opposed to many other parts of the world, you will not find washing machines nor cans, but giant sponges, soft corals and of course all those seaweeds and phanerogams nudibranchs and flatworms love eating…
Sponges give shelter to big frog fish, leaf fish hidden among seaweeds, rinophie, inimnicus didactylus and other strange stuff are there, still, waiting for you to pass by and peep out.
It's a unic world that is worth discovering, mainly loved only by photographers and experienced divers… unfortunately!
If you are curious to find out more about this, Nosy Be is just for you.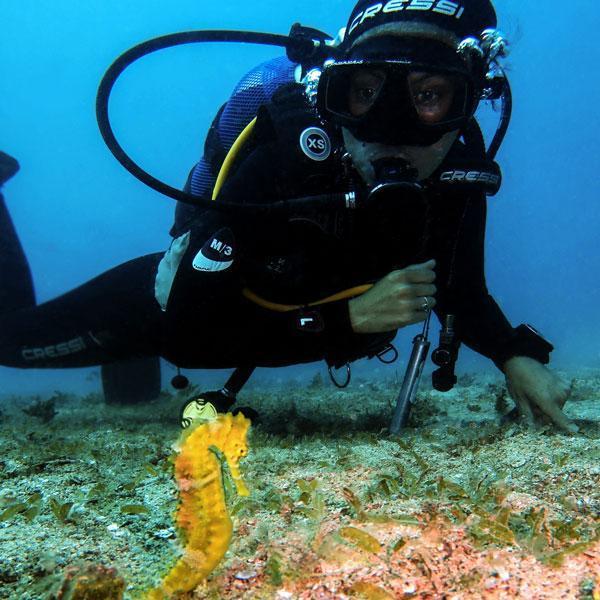 A real jewel in Nosy Be, unfortunately not understood by everyone; it is located on a large plateau in front of Sakatia island and reaches a maximum depth of 18 meters.
This site is perfect dive for those who love swimming slowly and relaxing underwater, magnifying glass and a lot of patience to research the pearls nature provides us with.
Besides a small reef, very nice I would say, the plateau hosts giant sponges where fish can relax while sheltered, as well as orange and brown sponges that camouflage the giant frog fish "Antennarius commerson".
Nudibranchs, flatworms, gastropods, rhinopya, leaves fish, Red dragon fire fish, …. we really have all the best for macro at our disposal. Just one note: mind your fins , otherwise photographers may get angry!

Extremely easy dive site, not far from the coast. Calcareous seaweeds like Halimeda and a mainly detrital sea bed created the perfect habitat for several types of nudibranches around a shoal peaking up at 9mt underwater.
Platyhelminthes wander among seaweeds and orange sponges. You often happen to find a non-optimal visibility. The highlight of this dive is the presence of hippocampus, leaf fish, rhinopyas and stone fish.
It is said that in Olaf a goddess had her earthly love lay a wish down on the sea bottom… so what do you want to immortalize? Great spot for night dives.

A name, a program: nice to go slow! Once at the starting point, we can admire the breathtaking beauty of primordial nature behind us, the island of Nosy Sakatia, in front of us, the infinite horizon of the Indian Ocean… below us… a mass of gorgonians at 15 meters…
Coral conformations scattered on the seabed host a myriad of micro life species: inimnicu didactilus, priest fish, tiny nudibranches walking on the body of a scorpionfish and from recesses, pomacantus etc…

Not far from the coast a stretch of coral reef houses a huge plateau that from 9 meters down to a maximum of 21 meters. Sometimes it can happen that visibility is not the best, but the marine organisms that can be find are infinite. Nudibranchs with strange shapes, giant seahorses (Hippocampus Histrix), rhinomuraena ribbon males, females and about to change sex, leaf fish, rhinopia, giant needle fish and much more.
A type of diving extremely suitable for night dive and for lovers of macro photography.